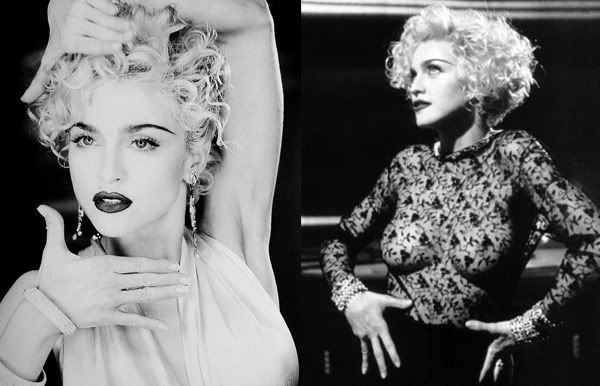 I'm about to put you on to some good trivia. Did you know that David Fincher directed Madonna's videos for Vogue and Express Yourself?! Yes, that David Fincher who made Kevin Spacey super creepy and Brad Pitt edgy. I wish I could queue that NBC The More You Know rainbow right now because this is a magical little revelation.
The video for Vogue is pure eleganza. Madonna's polished black and white ode to Paris is Burning and Executive Realness featuring power suits and cashmere scarves. Those queens showed her the moves; she added Jean Paul Gaultier, diamonds, and diva fans. The rest is history. The original song is full of attitude: opening with Madonna asking "What are you looking at?" and a powerful series of snaps that I'm convinced only a drag queen could produce. Then we're commanded to "Strike a Pose." Do what Madge says and no one gets hurt. Madonna looks stunning as she channels Old Hollywood in the form of both Marilyn Monroe and Veronica Lake. The contrast of these overly feminine figures and Madonna donning a tailored men suit is part of what makes the video iconic. Eternal chameleon Madonna is so comfortable in her own skin that she's sexy as a man or a woman. And a special shoutout is in order for Madge's glorious décolletage in that lace top. This video is its swan song. Werk!
Express Yourself makes me long for the days of cinematic big budget music videos championed by Madonna and Michael Jackson. Remember how exciting the premieres would be!? Fincher brings us a modern sexed up version of Fritz Lang's Metropolis with a cold, dark industrial city full of greased up hunks and one lonely grinding Madonna. Express Yourself was the most expensive video at the time with a budget of five million. With that kind of money couldn't someone have bought her a glass? She really shouldn't have to drink her milk out of a bowl on the floor. But if you insist she will, very, very, slowly. In this video she again toys with the idea of gender bending wearing both lingerie and a men's double breasted suit enhanced by a Mr.Peanut style monocle. Madonna's iconic videos are as important as the music, striking visual companions to songs many of us know and still love today and this fact makes me love David Fincher even more.
theraddy reblogged this from ilovehotdogs and added:

I didn't know he directed those videos! David Fincher FTW! \o/