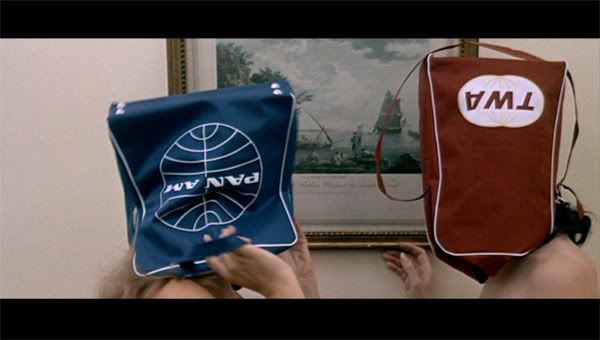 And here I thought I could never meet a Godard film that I didn't like. In 2 or 3 Things I Know About Her (2 ou 3 choses que je sais d'elle) we are introduced to Juliette, a bored housewife and sometimes call girl who represents the complicatedness of woman, and of the city of Paris itself. She's beautiful yet solemn, and as Tyra Banks would say her eyes are dead. And honestly I felt dead watching her. Even her second life as a partime call girl seems to bore her, with requests to walk around nude with a flight bag over her head. Le French c'est kinky!
One conversation in the film sums of Juliette's feelings of longing perfectly:
Juliette: So what now?
 Robert: We go to bed.
 Juliette: And then?
 Robert: We wake up.
Juliette: And then?
 Robert: Same again. We'll wake up. We'll eat.
 Juliette: And then?
 Robert: I don't know. Die.
 Juliette: And then?
And I shared the same feelings about this film. "And then?" I thought. Some end credits s'il vous plaît! Her mood is matched in the images Godard places against her. The ever-changing Paris of the 60s is shown in construction sites, highways, cold buildings and gas station signs. And we are constantly interrupted by others, mostly woman who talk directly to the camera as if it were their therapist. They dole out their issues and hang-ups so matter of factly you would assume they were filing their nails if the camera panned down. And it would not be a Godard film without a hint of social commentary and we get it in the form of pictures of the Vietnam War and candy colored household products that represent our bloated consumer culture. The film's premise is interesting but I found the color palette and typography more fascinating than the people. Maybe I missed something as many regard this film as one of his best. Godard released three films that year (see: Week End and La Chinoise) perhaps even the best directors can be spread a little thin.